Chancellor Lee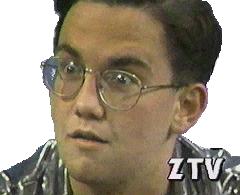 Chauncey is a former ZTV member, and a graduate of 1999. He attends Olivet College now, and also mentors at ZTV.
Chauncey
---
Hi, my name is Chancellor. I've been involved with ZTV since '96 along with J. P. , Nick, Dan, Mathieu, and so forth. I founded the roll in along with Dan and J. P. I've been involed with many ZTV shows. I am now a mentor along with Charles. You may recognize me from such exceptional programming such as:
Super Happy Christmas Show
Paranormal Experiences I & II
The Holloween Safety Special
and so forth...
I am currently single, and may be reached for comments at cpleemi@aol.com. Thank you. You may proceed with the monotony of your daily existance, peasant.