James Ramsey Freeman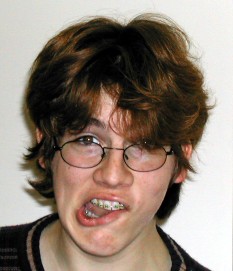 Jim is a current member of ZTV, best known for the hat he wore on air. He's also a whiz at the CG system. He presently goes to Vicksburg High School (he's a junior).
Jim
---
I came across this stupendous (that's a compliment) show when the ever persistant Ben McDonald and Mike Lucking recruited me in our TV Broadcasting EFE class that we have together. My first episode was the Carbonated Beverages, which was my first time on live TV, and wasn't very good. I believe that I've made some strides though. I plan on doing Talent, Camera, and/or Character Graphics.
My pastimes include playing video games, watching Sportscenter on ESPN and collecting odd hats and other garments (I own a kilt and a pancho) which I plan on sporting on future episodes. My favorite TV shows include Pardon the Interruption, The Simpsons, Thundarr the Barbarian, and The A-Team. I plan on going to Penn State, Ole Miss, Florida, or Indiana for college and majoring in Busisness with a minor in TV or Radio Broadcasting.