Laurel VanGemert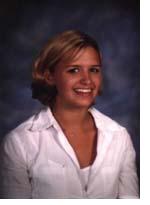 Of all the ZTV folks, I have no idea what Laurel has been up to since leaving ZTV several years ago. Sorry.
Laurel
---
Hey all you ZTV watchers, my name is Laurel VanGemert and I am the Portage girl. I also am the mascot as well as Portage girl. I'm not a regular to the show but I try to stop by as much as possible. Mostly what I can say about myself is that I am the young one on the show, but shhh no one knows that. In Portage, I play volleyball and basketball whenever I get a chance. Thanks for stopping by to see my picture and read my "interesting" info. if you want to see my ZTV dedicated page, it's http://www.angelfire.com/mi/hailgoddess or you could drop me a line at kew_is_kew@yahoo.com
Thanks for watching ZTV!