Nick Lucking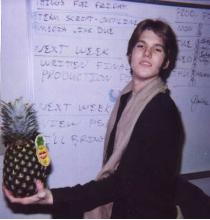 Nick is a former ZTV member who graduated in 2000. He is presently at college in Chicago.
Nick
---
I am a second generation Original Z-TV Member. I have been a member since 1996. For those (very few) of you who saw the original episode of Z-TV (Holloween Stories 1996), I was the kid who couldn't stop scratching his leg. On the show I am mainly direct and do tech stuff with Dan. Every once and a while I am talent. I like to draw and paint in my spare time. I also watch lots of movies. My favorites are Clockwork Orange and Harold and Maud. When there is nothing else to do I pretend to be Euro Trash.
And here's a link to Kraftwerks Home page.