Ross Pattison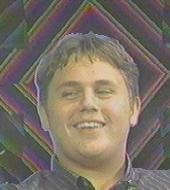 Ross is a former ZTV member who graduated in the Year 2000. He is presently at college at KVCC.
Ross
---
The Name Is Ross Pattison
How's it going out there in the web? Not to bad here. Just to let all you boys and girls know a little about me. This is my first year doing ZTV, and I love it. I'm now a senior at Kalamazoo Central High School. World Class baby!!! I'm 18, and my own mother thinks I am a...never mind, we won't get into that. I love doing the show. It's one of the many highpoints of my week. I'd like to thank the viewers for making this thing we like to call a show possible. I'd also like to thank Machoo (I know that's not how you spell it), J.P., Nick, Dan, Shana, Rachel, Chauncey, Briana, Charles, and most of all Jason. They have made this experience one of the best experiences I've ever experienced.
Thanks.